Fei Siong Institute was set up by Fei Siong Group with the:
Vision: Leading Singapore food services group
Mission: Serve quality hawker food at great value
Values: Customer First! People First! Service First!
Fei Siong Group today has:
More than 1,600 staff
More than 173 outlets
20 brands
Fei Siong Group was the Winner of:
SkillsFuture Employer Award 2020
Fei Siong Institute Pte Ltd (FSI) started on 13 Aug 2020
First Singapore Hawker Food Institute
SkillsFuture Singapore (SSG) public WSQ Approved Training Organization (ATO)
Collaborates with Enterprise Singapore (ESG)
Collaborates with Institute for Adult Learning (IAL) Singapore
FSI today has served more than:

Trained by Industry Leader, not just a training provider

Workplace-based learning in classroom and in workplace

24-7 access to the FSI community for help

Courses that improve your performance and success

Trained and assessed by
Practitioners
FSI complies with quality policy and procedures
WSQ courses are accredited by SSG

Students who do well will be offered jobs by FS companies
FSI is a SSG registered public WSQ ATO which provides workplace learning for managers, staff and hawkers in the hawker food industry to help them upskill themselves and achieve success in their work and personal lives.
People have attended FSI Courses
Food services companies face enormous challenges in transforming themselves to meet challenges posed by changing customer needs, digitalization, automation and the need for managers and staff to constantly learn, unlearn and relearn.
At FSI, we provide consultancy services to food services companies, including learning needs analysis.  For independent operators, we provide coaching to help them build and manage their business from scratch.  Finally, we provide a range of WSQ and non-WSQ courses to upskill the food services workforce.
Your Corporate Training Partner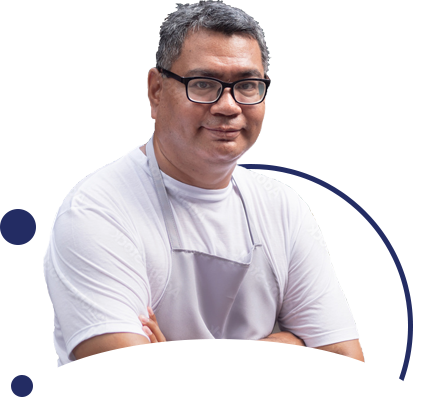 WSQ courses, mandatory courses and other skills courses are available and SkillsFuture funding is available for relevant courses and learners.